I recently shared this story in my Bible study group, and because they seemed to appreciate it, I thought you might also.
Her name was Carol Jensen. She was not much older than me, but she had great spiritual wisdom. She taught our church's Ladies Bible Study. She was also a leader in a parachurch ministry that most of us belonged to at the time.
To a small group of women in our little church, she was a mother, a mentor, a sister, and a friend. We not only spent time with her in church activities, but she always had time for a phone call, sometimes hour-long phone calls, as she shared her life and her Godly wisdom and insight with us.
We were all devastated when she was diagnosed with terminal cancer. Now she needed us, and we didn't know what to do or say to help her and her family through that difficult time.
As the end drew near, we, her faithful students, felt compelled to gather at her house. Every time we went, we were sure to find at least one other from our group in attendance. Usually, there were three or four of us. Her circle of influence was more extensive than we knew, and we often met ladies from other churches in our community who she also mentored.
We read the Bible to her, brought meals, and swept the kitchen floor, even when someone had already swept it. We tidied up her house, chatted with her when she was up to it, and chatted with her husband or children when she dozed. We squeezed each other's hands in passing and sometimes accompanied each other out into the yard to weep together for a minute.
I was on my way to her house one morning, feeling overwhelmed with the sadness of losing her. She had meant so much to me! Tears slipped down my cheeks as I drove, as I prayed for her and for her family. I was also praying for me. I didn't know if I could face losing her. How would I ever say goodbye? I wanted every precious last minute with her, yet I dreaded being there.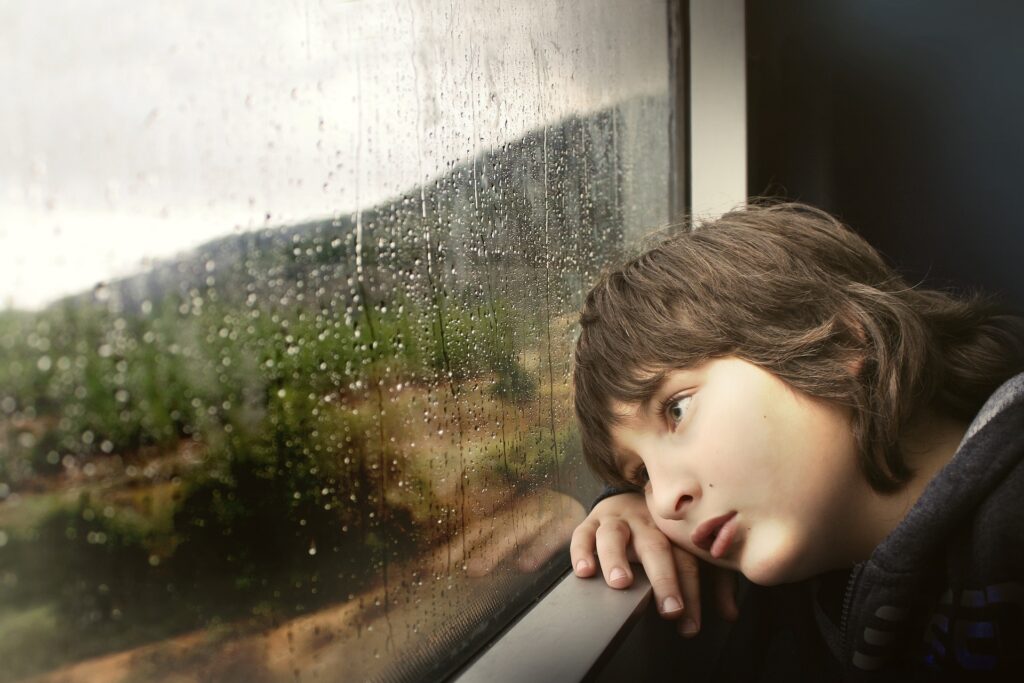 I felt like a child standing at the window, watching her mother leave, and in my heart I whispered, "Don't go. Please don't go."
I was thinking to myself (and telling God) that I hoped there would be someone else there today who could give me a good word, someone who would say something to help me through this heartbreaking ordeal.
In an instant, God turned my heart's desire inside out with the idea that I could instead be praying that I would be a blessing to someone else there today. I knew I wanted to be a blessing to Carol, but now it occurred to me that God would like me to go prepared to be a blessing to someone else.
Sure enough. At Carol's house that day, a lady came who had never attended a deathbed before. She was nervous to even come inside the house. I went out to greet her, walked in with her, pulled up two chairs at Carol's bedside, and told Carol who had come to see her. Carol was barely conscious, but this friend took Carol's hand and gently told her how much she loved and appreciated her. She was rewarded with a gentle hand squeeze from Carol. She had the closure she needed to let Carol go. I went that day wanting someone to help me say goodbye. Instead, I had helped someone else.
Carol passed several weeks later, and I can no longer recall the name of the person who came that day. The lesson I learned is a promise in Proverbs 11:25. He who refreshes others will be refreshed. I was. I left knowing I had done what my mentor and teacher would have done, and I knew she would be proud of me. God too.
Those words come back to me now, again and again, whenever I go into a group. Be a blessing.
When I go to church, a Bible Study, or any other gathering of friends, be a blessing. It especially comes to mind when my heart is heavy and I want to be comforted myself. He who refreshes others will himself be refreshed. It's true. If I can be a blessing, I come away comforted and refreshed.
Here's the challenge. Whatever you do today, where ever you go or even if you'll be alone all day, is there a phone call you could make, a note you could write, or a prayer you could pray to be a blessing to someone else today?
Are you struggling with some challenge in your own life? Me too. The things I share with you are born out of my own walk. Let's do this together. Let's determine that when we need and want to be comforted that we will find a way to be a comfort and encouragement to someone else, and let's see what God can do with that.